THE MUSIC OF LAYNE REDMOND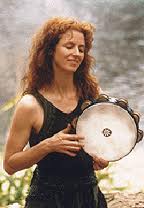 Layne Redmond is an acclaimed drummer, composer, author, mythologist, and a lifelong student of yoga.
Redmond teaches workshops and performs internationally, specializing in the small, hand-held frame drums played primarily in the ancient Mediterranean world. She is the author of When the Drummers Were Women and was named Drum! magazine's 2002 Percussionist of the Year.
She is only one of two women featured in Planet Drum, the book about ethnic drumming by The Grateful Dead drummer Mickey Hart; and was the first woman to have a Signature Series of world percussion instruments with Remo, Inc., one of the world's largest manufacturers of percussion instruments.
CHAKRA BREATHING MEDITATIONS BY LAYNE REDMOND
Rhythmic breathing is one of the most important techniques utilized in yoga practice. When done properly, it can be highly beneficial in quieting the mind, energizing the body and elevating one higher levels of awareness. CHAKRA BREATHING MEDITATIONS, by author and acclaimed percussionist Layne Redmond, is a guided practice in the use of breathing to synchronize the mind and body. This program offers an overview of the complete yogic breath, chakra-activated seated meditations, standing meditations (with full yogic breath) and a walking meditation that focuses on each of the seven chakras. In addition, there is one "music only" percussion-oriented track that gives listeners the freedom to meditate in their own way, free of instruction.

1. The Natural Breathing Process 4:01
2. Three Simple Breathing Practices 7:34
3. Yogic Breath While Seated 3:45
4. Chakra-Activating Breathing 11:22
5. Standing Meditation with Full Yogic Breath 4:42
6. Breath of the Chakras 19:40
7. Breath of the Chakras (Instrumental) 21:13



PLAYING TIME 72:22
MP3 clip CD PRICE $17.00
CHAKRA MEDITATION BOOK & CD BY LAYNE REDMOND
On this book-and-CD set, the acclaimed author of When the Drummers Were Women guides an interactive journey through the human body's seven vital energy centers, teaching traditional practices used to balance each chakra. The practices are designed to remove energetic blockages, revitalizing our tissues and cells, creating a radiant body and mind, and increasing our internal flow of energy. The program includes breathing techniques, visualization exercises, chanting, ritual drumming, sacred music, and an original 28-minute guided meditation.


CD PRICE $20.00
CHANTING THE CHAKRAS BY LAYNE REDMOND

CHANTING the CHAKRAS features a union of a 2000 year old Yogic meditation practice with trance-inducing drumming, masterful Indian Sitar and Tambour, and euphoric Mantra chants. By chanting the seed syllables of the chakras, you can retune your mind and body in a Yogic manner, resulting in deep relaxation and well-being of the entire self.

1. The Garland of Letters 21:50
2. Lotus of Light 15:38
3. Elements of Light 8:34








PLAYING TIME 46:04
MP3 clip CD PRICE $16.00
HEART CHAKRA MEDITATIONS BY LAYNE REDMOND
Percussionist and life-long yoga practitioner Layne Redmond takes listeners on a fascinating journey into the depths of the chakra system with this informative recording. Themed after the heart chakra, an energy region that is key for the receptivity of love, Redmond presents a series of meditations that will help you purify the heart chakra and keep it balanced. Featured in this set are two discs. The first offers instruction from Redmond, and includes pranayama exercises, shavasana practice and meditations. The second disc presents over an hour of intoxicating chants that weave together elements from the Hindu, Buddhist, Christian, Jewish and Islamic spiritual traditions. The finishing touch is a 20-minute recording of the human heartbeat, an incredibly powerful healing sound.

1. Heartbeat Meditation: The Heart as the Cosmic Drum 10:33
2. Introduction to Full Yogic Breath and Ujjayi Prana 5:24
3. Ujjayi Pranayama Practice 6:31
4. Bhramari Instruction: The Humming Bee Breath 3:09
5. Bhramari Practice 5:35
6. Shavasana to the First Sound 18:55
7. Heart Chakra Being Peace Chant 28:50
8. Primordial Heartbeat 20:11
9. Primordial First Sound 19:56



PLAYING TIME 119:07
MP3 clip CD PRICE $20.00
HYMNS FROM THE HIVE BY LAYNE REDMOND
Songs heard listening at the Hive. Featuring Tadeu Mascarenhas, Amit Chatterjee, Mariella Santiago, Marcela Belas, Vicki Richards, Tommy Be, Everton Isidoro, Eduardo Mota and Ubaldo Oliveira. Hymns From The Hive is an aural libation, poured by the incomparable Layne Redmond who continues to bless us all with this wild-hearted New World Sacred music. Layne is one of the great rhythmic pollinators of our time, magnetizing and weaving astonishing world musicians and singers into the transcendent hum and thrum of honeybees from the mountains of North Carolina.

1. Sunrise of Forever 7:20
2. Grieving Protest 8:04
3. Mantra of the Bee Goddess 9:34
4. The Journey In 11:39
5. The Forgotten Hive 10:01
5. The Hive of the Mysteries 5:49
7. The Garden of the Hive 18:44



PLAYING TIME 71:13




CD PRICE $17.00
MP3 clip
INVOKING APHRODITE BY LAYNE REDMOND
Percussionist Layne Redmond resurrects the sacred music and poetry of ancient Greece, fused with Mediterranean and Brazilian drumming traditions, frame drums, violin, bansuri flute, and sparkling vocals. The selections include the Epitaph of Seikilos - the oldest notated musical composition found to date - and spoken word works by Sappho, the seventh-century Greek poet, composer, and priestess of Aphrodite, as well as Mesomedes of Crete and the Pythia Priestesses of the Oracle at Delphi.

1. Invoking Aphrodite 5:37
2. The Epitaph of Seikilos 7:40
3. Hymn to the Muse 8:02
4. The Final Delphic Oracle 7:29
5. The Call 13:56
6. The Ocean of Blessing 9:30



PLAYING TIME 52:18




CD PRICE $17.00
MP3 clip
INVOKING THE MUSE BY LAYNE REDMOND
INVOKING THE MUSE is the result of a fascination percussionist Layne Redmond developed with a second century song titled "Hymn to the Muse" that she found while doing research on the music of ancient Greece. The recording pays homage to each of the Nine Muses of Greek mythology and the powers of inspiration they possess. Redmond's skill for constructing powerful and complex rhythms is once again on display with this release, as evidenced by the invigorating energy of the pieces. Further enhancing the rhythmic atmospheres are the sounds of violin, African thumb piano, flute (Steve Gorn) and vocalese (Anonymous 4's Ruth Cunningham and Manhatten Transfer's Laurel Masse). These haunting soundscapes are great for reflection or trance dance.

1. Radient Pleasure 7:05
2. Moon's Lament 6:09
3. Hymn to the Muse 6:36
4. Sweet Desire 8:00
5. The Whirler 4:44
6. Uma 7:06
7. The Proclaimer 2:56
8. Seven Heaven 7:42
9. The Golden Hive 5:29



PLAYING TIME 55:55
MP3 clip CD PRICE $17.00
SUNDARYALAHARI BY LAYNE REDMOND
Celebrated percussionist Layne Redmond has been teaching her Middle Eastern-style hybrid tambourine techniques to a group of cutting-edge percussionists in Salvador da Bahia, Brazil - the red hot kitchen that gave us the original samba, capoeira, Caetana Velosa, Gilberto Gil, Olodum and Ile Aye. The result is this fusion of Middle Eastern and Brazilian music with funk, rock, blues, and the ecstatic frame drums of Dionysos. Redmond's last two CDs were voted "Percussion Recording of the Year" by Drum! magazine readers.

1. Into the Wave 9:14
2. The Heart's Oasis 11:06
3. Amrita 12:05
4. The Wave of Bliss 20:37
5. Whirled Jam 10:17
6. The Cult Table 3:48
7. Ceaseless Horizon 8:39



PLAYING TIME 75:50




CD PRICE $17.00
MP3 clip
BEST SELLERS LISTS