THE MUSIC OF 2002 GROUP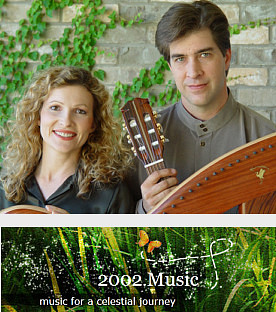 There is a wonderful chemistry between husband and wife, Randy and Pamela Copus, the duo who comprise 2002. Reviewers and fans alike are amazed to learn that the peaceful, soothing, ethereal, richly layered music that is their signature sound and has given them resident status on Billboard"s New Age Chart for more than six years is created by only two musicians, but it is. True, they are two exceptionally talented musicians, perfectionists in both their art and their craft. Randy Copus plays piano, electric cello, guitar, bass and keyboards. Pamela Copus plays flutes, harp, keyboards and a wind instrument called a WX5, along with exotic instruments she collects during her travels around the world and learns to play. Both musicians also provide all of the vocals on their albums, recording their voices many, many times and layering them in their state of the art studio in Texas to create a "virtual" choir with a celestial, angelic quality. The vocals also have many dimensions, as words and chants in Sanskrit, Spanish, Latin and Japanese, representing sacred traditions throughout the world, can be heard on their albums.


ACROSS AN OCEAN OF DREAMS BY 2002
ACROSS AN OCEAN OF DREAMS is an adventure in imagination - a vivid, sweeping recording that puts you face to face with soundscapes that will astound you with their beauty. The duo of Pamela and Randy Copus use their trademark instrumentation to create a little piece of heaven that's themed after the world's mighty ocean basins. Lush ethereal synthesizers swell, a celestial symphony of orchestral effects twinkle and flow with magical precision and airy vocalise haunts many of the tracks like a ghost. Listen to the epic sounds of "Nautilus," "The Sea at Night" or "Well of Wisdom" and you'll understand why 2002 has been a new age chart favorite for many years.


1. The Ocean Dreams
2. The Sound Of Still Water
3. The Sea At Night
4. Valley Of Healing Waters
5. The River's Journey
6. Oceans Of Life
7. Well Of Wisdom
8. Lady Of The Moon
9. Nautilus
10. Heart Of The Nile
PLAYING TIME 51:57
MP3 CLIP TRK 1
CD PRICE $15.00
---
CHRYSALIS BY 2002
When one thinks of a CHRYSALIS, chances are the idea of a caterpillar being transformed into butterfly comes to mind. Much like its namesake, this album from husband and wife duo Randy and Pamela Copus revolves around themes of transformation, renewal and new beginnings. Reverberated Enya-esque overdubbed vocals and dense clouds of velvety synthesizers give 2002's buoyant compositions a cosmic, celestial radiance that presents an ideal catalyst for creating tranquility. Flutes, strings, harp and keyboards comprise the remainder of the pair's heavenly soundscape. Songs like "Chrysalis," "Spinning the Silk," and "Dream Come True" are saturated in sweeping sublimity, making this wonderful realm of imagination and fantasy the perfect release for the captivated spirit.

1. To Touch the Sky 5:28
2. Chrysalis 5:34
3. A Gift of Life 4:33
4. Greater Than the Sum 5:54
5. Spinning the Silk 5:356. Journey Within 5:31
7. Dream Come True 5:54
8. Healing Rain 6:43
9. Cocoon 4:44
10. Magic Flower 5:18
PLAYING TIME 54:46
MP3 CLIP TRK 2
CD PRICE $15.00
---
DAMAYANTI BY 2002 MUSIC GROUP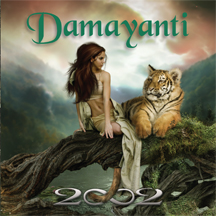 "Damayanti is really a love story expressed in music. This album has a majestic beginning. You could imagine this music being played as the universe was created. Stunning vocals immediately entice you as they create a choir effect not unlike you would imagine in heaven. ~ Rebecca Johnson, The Rebecca Review



1. Forever My Love (4:22)        MP3 clip
2. Flight of the Swan (5:33)
3. Beauty and Grace (6:03)
4. Challenge From Heaven (4:16)
5. A Choice From the Heart (5:35)
6. Cycle of Time (4:24)
7. A Divine Encounter (5:09)
8. Destinies (4:23)
9. Enduring Love (4:29)
10. Time Stands Still (4:41)

PLAYING TIME 59:00

CD PRICE $15.00
---
DEEP STILL BLUE CD & DVD BY 2002
There is one thing that can be said about the music of 2002 - they certainly know how to create music that is ethereal and otherworldly. Actually, in the case of DEEP STILL BLUE, underworldly may be a better term, given that the album was inspired by the vast beauty of the oceans and undersea life. The music features smooth, flowing waves of synthesizer that are accented with light piano, flute, guitar, vocal sounds and some subtle rhythmic textures. This journey to the deep is unique in that 2002 offers not only an audio experience but a video experience as well. The accompanying DVD features stunning underwater photography of coral reefs, exotic fish and other mysterious creatures that offer a beautiful companion to the music. Also on the DVD is an interview with Pamela and Randy Copus.

1. Where the Stars and the Moon Play 4:25
2. When I See You Again 4:43
3. Deep Still Blue 5:07
4. An Ocean Apart 4:23
5. Sarah's Rainbow 4:04
6. Little Angel 5:07
7. Setting Sail 4:32
8. Summer's End 5:10
9. Sweet Dreams 5:37
10. The Voyage Home 3:44

CD PLAYING TIME 46:59
CD & DVD PRICE $20.00
MP3 CLIP TRK 1
---
THE EMERALD WAY BY 2002
As 2002, Pamela and Randy Copus have carved a niche in the healing music sub-genre with their swelling synthesizer dreamscapes. If THE EMERALD WAY proves anything, it's that they haven't lost their touch. The music overflows with heavenly melodies and majestic crescendos that are as light as cotton candy and equally sweet. If possible, this album actually feels more fluid than past works, with great use of piano, guitar and flute to build an uplifting mood. The compositions were inspired by the writings and verse of Hindu mystic Sri Aurobindo, specifically the theme of following your heart and choosing your own roads. 2002 fans will find a lot of familiar ground here, as the music parallels the group's best material.

1. Inner Light 4:32
2. Another Answer Came 5:12
3. Remember Now 4:25
4. The Emerald Way 6:30
5. Overheard in a Dream 5:30
6. Soul Doors 5:12
7. Unopened Flower 6:08
8. Timeless 3:20
9. Traveler Winds 5:42
10. Secret Shores 5:00



PLAYING TIME 51:38
MP3 CLIP TRK 1
CD PRICE $15.00
---
LAND OF FOREVER BY 2002
Like their previous releases , 2002's LAND OF FOREVER contains beautiful, soothing music that this duo has become known for. Tracks like "Sea of Dreams," "Dance with a Princess" and the title track "Land of Forever" describe legends of the mysterious northern isle of Tir Na Noc, a magical island that remains submerged by day and rises from the sea at night. Glistening guitar adds a new depth to the familiar array of angelic strings, keyboards, flutes and harp transporting listeners to that mysterious other realm.

1. Summer Of 300 Years 5:26
2. Sea Of Dreams 5:56
3. Land Of Forever 5:09
4. Realms Of Splendor 6:26
5. The Calling 4:38
6. Dance With A Princess 6:07
7. Feast Of Immortals 5:54
8. Falling Through Time 5:54
9. Heavenly Cities 6:09
10. Oceansky 5:51


PLAYING TIME 57:35
MP3 clip
CD PRICE $15.00
---
RIVER OF STARS
2002's RIVER OF STARS is a soul-stirring presentation of unsurpassed beauty. Featuring Pamela and Randy Copus at their best, the duo performs ten gorgeous compositions that will take listeners on a soaring journey through the cosmos. Harp, guitar, strings, keyboard, flute and choir combine to create breathtakingly lyrical tracks that include "Elysian Fields," "Starwalkers," "Lovers' Bridge," "The Dreaming Tree" and "Tanabata Moon." Be sure to check out the duo's other outstanding releases for more of their unique sound.

1.River of Stars
2.Elysian Fields
3.Stella Maris
4.First Daughter of the Moon
5.Starwalkers
6.Heaven and Earth
7.Lover's Bridge
8.Dreaming Tree, The
9.Tanabata Moon
10.Rays of Light


PLAYING TIME 51:52
MP3 CLIP TRK 1
CD PRICE $15.00
---
THIS MOMENT NOW BY 2002
If at some point during THIS MOMENT NOW's running time you don't find yourself thinking, "Wow, this is beautiful," you may want to get your ears checked. 2002 provides the listener with all the right components, exquisite music and soothing melodies to put you in the proper mood. Lush synthesizer symphonics and airy overdubbed vocals gently swirl and intertwine like a plume of smoke rising from an ember. A most pleasant surprise is the track "Moment of Love" sung by Randy Copus himself. Soothing, reverberated piano/guitar melodies add another layer to the album's ethereal sweetness. This has to be Pamela and Randy's strongest piece of artistry yet--pure heaven.

1.Suddenly Yours
2.Sunny Day
3.Morning of Light
4.Even Now5.Life Is
6.Moment of Love
7.Romancing the Moon
8.Gate of Dreams, A
9.Children in Time
10.Bliss11.Dreaming of You

PLAYING TIME 49:06
MP3 CLIP
CD $15.00
---
TIMELESS CD BY 2002
Real Music's "Legends" series was designed to pay homage to some of the ground-breaking new age artists of their label, who have helped shape the genre over the last decade or two. First on their agenda is TIMELESS, a collection of greatest hits by the dreamweaving duo 2002. With their ethereal arrangements, tender instrumentation (piano, guitar, harp, synth orchestration) and vocals which touch upon the overdubbing style on Enya, Pamela and Randy Copus have created a unique signature sound that has entranced listeners for nearly a decade. The album features highlights from many of their albums, including "Dreaming of You" from THIS MOMENT NOW, "Starwalkers" from RIVER OF STARS, the title track from LAND OF FOREVER and much more.
1. LAND OF FOREVER
2. ELYSIAN FIELDS
3. A VOICE IN THE NIGHT
4. TIMELESS
5. MAGIC FLOWER
6. ICARUS
7. STARWALKERS
8. VALLEY OF HEALING WATERS
9. THE YEAR
10. DREAMING OF YOU
11. SECRET SHORES
12. TEMPLE OF APOLLO
13. THE RIVER'S JOURNEY
PLAYING TIME 66:48
MP3 CLIP TRK 1
CD $15.00
---
WINGS II-RETURN TO FREEDOM BY 2002
With every new 2002 release, you can always rest assured that you will be absorbed in a fascinating dreamscape that uplifts as it soothes. If anything, WINGS II - RETURN TO FREEDOM takes these qualities to a new level. The music here is bright and whimsical with a strong sense of airy serenity. The album is heavier in the atmosphere department than previous releases, with less emphasis on vocals (the vocals here are wordless and well integrated into the shimmering backdrops). In fact, the album is one of their most ambient to date, featuring synth atmospheres that are dense and lush, like a warm bed that you can easily curl up in. Besides the billowing synths, some piano and 2002's characteristic reverberated guitar come into the picture. Very relaxing!
MP3 CLIP TRK 1
CD PRICE $15.00


---
WORD IN THE WIND BY 2002
What mysteries and secrets did the ancient civilizations hold? Like A Word in the Wind their stories drift through space and time falling delicately upon our ears unlocking the secrets we all desire. Its these secrets, told through 2002s captivating music and visualization that has set a new level for the duo, one that is simply groundbreaking and will be remembered as A Word in the Wind for generations to come. Part of the Audio Visual Connect Series from Gemini Sun Records, this two disc CD and DVD set includes 5.1 surround sound and captivating imagery of our ancient cultures and civilizations. From the unforgettable Free to Fly to the stirring 1054 A.D. this is 2002 like we have never heard and seen before!

Disc: 1
1. 1054 A.D. Audio only
2. A Word in the Wind. Audio only
3. Spirit Moves. Audio only
4. Ancient Circle. Audio only
5. Promise of the Ocean. Audio only
6. Free to Fly. Audio only
7. Rain Dance. Audio only
8. The Singing Stone. Audio only
9. Dreaming Cloud. Audio only
10. Mirage. Audio only


Disc: 2
1. 1054 A.D. Audio and Visual
2. A Word in the Wind. Audio and Visual
3. Spirit Moves. Audio and Visual
4. Ancient Circle. Audio and Visual
5. Promise of the Ocean. Audio and Visual
6. Free to Fly. Audio and Visual
7. Rain Dance. Audio and Visual
8. The Singing Stone. Audio and Visual
9. Dreaming Cloud. Audio and Visual
10. Mirage. Audio and Visual

MP3 CLIP TRK 1 CD + DVD PRICE $18.00
BEST SELLERS LISTS